News
Ransom Money
Such a special day at the Darwin Turf Club yesterday celebrating and recognising our jockeys who ride our amazing thoroughbreds.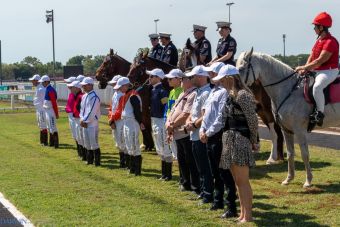 We would like to thank the NT mounted police for also celebrating this day with us with one very special member of their team Ransom Money.
Ransom Money
8 yo gelding
Tickets - Play Money
39 starts 4 wins 4 seconds 5 thirds $137,195
Last raced 13th February 2021
Retired 4th May 2021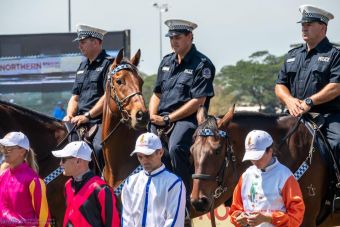 After only 4 months off the track Ransom Money made his first public appearance in the ceremony line up. He certainly earned his stripes and is now becoming a valuable member on the force.
TRNT Off The Track Float Subsidy
TRNT Off The Track would like to announce that a float subsidy has now been offered for horses that are being rehomed out of Northern Territory. We understand that not all horses are able to be re-homed here in the Territory and the need for them to travel to cooler climate is necessary for their welfare.
Float Subsidy Terms and conditions
Float subsidies will only be paid on the following conditions:-
Horses retiring out of the Northern Territory that are being rehomed to an approved retrainer or home. The application for the subsidy MUST be organised with TRNT Off The Track before the horse is transported.
Horses that are being transported by a registered float company (and an invoice is raised for the amount of $250 + GST). The invoice to be sent to TRNT Off The Track, with the remaining portion to be paid by the current registered owners or an agreement between trainer and owners has been reached.
No horses leaving the Northern Territory for the purpose of breeding will be eligible for the TRNT Off The Track float subsidy.
Where Are You
How versatile are our thoroughbreds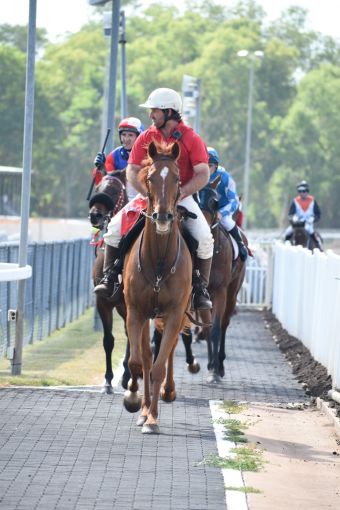 Where Are You
11yo gelding
by Freeze out of Deed Poll
Trained by Kerry Petrick
Retired 2/01/2014
Last start in Darwin 30/10/2013
10 starts 0-2-0 total $5200 in prize money
On the weekend Where are You (Toby) stepped up once again to fill in the role as Clerk of the Course he certainly enjoyed is days outing and we will no doubt see him again over the carnival.
Toby is a valued member of the Davidge family and has become very versatile horse in any discipline from show jumping to polo x and what ever else is happening you will find Toby there.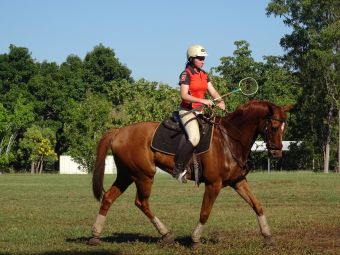 Thanks to the Davidge family for letting me share what a great example of what thoroughbreds are capable of and that is certainly everything in Toby's case.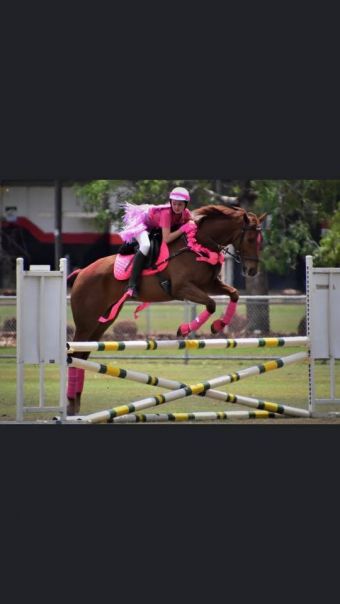 Captain Punch
Captain Gerard / Punchline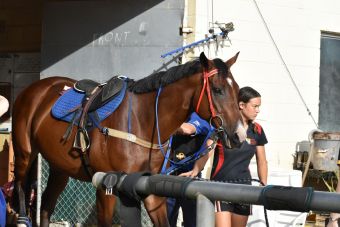 9yo Gelding
Bred by Vintage Bloodstock
36 Starts 13 wins 5 seconds 2 thirds
Owned by Mrs S Clarke, A Fleming, R Edmonds, J Illidge, D Gebert, D Marcroft, A Nakov, C Carter, M Dillon, C Lambley, D Jenkin, A Perry
Prize money $408,500
First Start 29th June 2014
First win Gawler 10th December 2014
First start in the Northern Territory, Alice Springs 30th April 2016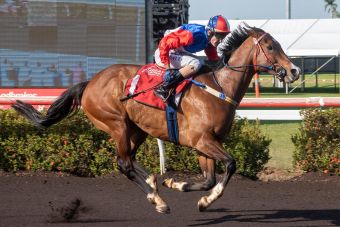 Total prize money in Northern Territory $341,520 from 17 starts with 10 wins 4 seconds &
Had 2 starts in Victoria with a second at Cranbourne 14th October 2018
Ran in 5 Palmerston Sprints for 2 wins a second and 2 unplaced
Farewell to Captain Punch from the Northern Territory. Punchy as he is affectionately known around the stables has been with Clarke Racing since 2016 and when he wasn't racing here in the NT he would have his holidays at Millpark Lodge in South Australia. Once the decision was made to retire him it was never going to be easy to find the right home for him. Clarke Racing and the owners waited patiently and wanted to ensure that life didn't end after his last race as he had so much more to give. He has been a superstar here in the NT on the track and we are sure he will be a superstar Off The Track in SA.
Thanks to TRSA & John Cornell who contacted TRNT Off The Track looking for a suitable horse as an ambassador horse to join the team with Olympic rider Megan Jones. Immediately Captain Punch came to mind as he is an absolute gentleman and his willing attitude made him a perfect candidate. Captain Punch will be supported by the TRSA equine welfare team while he now embarks on his retraining into his new career.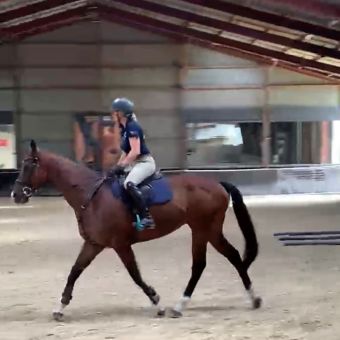 Brad Cooper from Darwin Horse Transport will be in charge of delivering Punchy to his new home in South Australia and we thankyou for your expert care in transporting all of our horses in and out of the Northern Territory.
Go Punchy show them what you have got we will be following your progress.
Its all about the horse.
Lunar Joy
We are happy to announce that Lunar Joy is now on the road back to a full recovery. Lunar was found out in the bush near Robbins Falls Adelaide River by Aimee Burgdorf in December and she was concerned for her welfare and made the decision to bring her back home. Not an easy thing to do as they had to organise a float and eventually made it back home after midnight.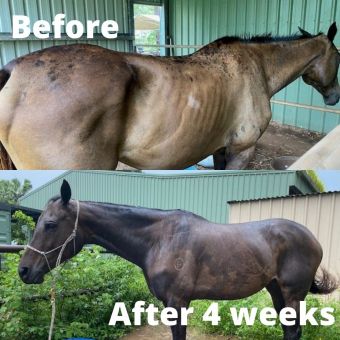 TRNT Off The Track was made aware of this and we immediately did an inspection on Lunar Joy to confirm her identification and unfortunately due to her very poor condition we arranged for emergency vet care by Dr Suzannah Smith and treatment was given. Hygain feed was provided to give her a balanced feed and we set her up on a diet to bring her back to condition. After not having this type of feed for awhile it was introduced slowly.
It was ascertained that Lunar had actually spent over 14 months out in the bush and travelled approximately 30km's she's certainly showed her toughness and resilience in the harsh conditions.
We are so thankful to Aimee for caring enough to bring this horse back home and after seeing the 2 together not sure if Aimee found Lunar or Lunar found Aimee, it has been such an amazing story.
Lunar still has a way to go before she will be back to her former self and TRNT Off The Track will be there for Lunar and Aimee.
Aimee is now the official owner Lunar and she will now go on and try her hand at polo x and we will continue to follow her progress on Lunar.
Thankyou Aimee, you are a star.
Its All about the horse
UPDATE
Remember our little Territory Tuff Thoroughbred Lunar Joy.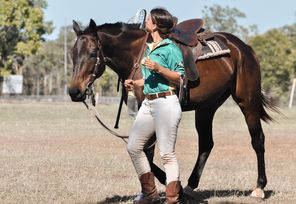 Look at her now!
We cant thank Amie enough for firstly finding Lunar in the bush and secondly helping her back to her former self with the help from Hygain feeds.
Lunar has now moved on to start her career in polo x with Leonie and they are quickly forming a great team together and last weekend Lunar stepped up to umpire a game wont be long and she will be out there on the field showing how tough she really is.