Urgent Notice to Trainers
URGENT NOTICE: Troy Vitamin C Injection – suspected tampering
It has come to the attention of Troy Laboratories that some bottles of Vitamin C Injection may have been sold with the claim that there are "extra supplements" included. The sale of this "supplemented" product Is not through retail sources, but rather through unofficial channels. The use of this product should be avoided.
It appears that after manufacturing and distribution, Troy Vitamin C Injection has been purchased and then had approximately 50% of the volume removed, and replaced with a liquid, the true composition of which is unknown, but that contains at least in part a cobalt salt (such as cobalt sulphate or cobalt chloride).
The tampered product appears as normal when opened, with the aluminium seal intact. Upon broaching, however, the appearance is a deep, red/blood colour that may include particles; the normal appearance is a clear to pale yellow liquid.
The bottles may be sold with or without the external carton, and the batch number on the bottle may not match the batch number on the carton.
The image below shows a tampered sample on the left, and the unaltered product on the right.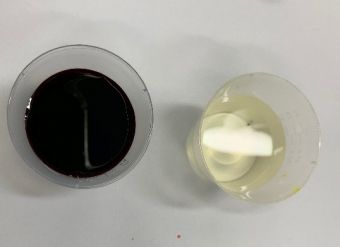 If you find a tampered bottle in your possession, please do not use it. Given the unknown ingredients, this could cause adverse reactions or positive swabs in performance horses or greyhounds. Please urgently contact Lee Metcalf at Troy Laboratories on 02 8808 3617 or 0433 821 617. Alternatively, you can contact the APVMA compliance team on 1300 700 315.