Welfare Commitment
Thoroughbred Racing NT (TRNT) is the principal racing authority in the Northern Territory. Bound by the Australian Rules of Racing, TRNT governs, promotes, and supports racing in the Northern Territory.
Off The Track is an extension of TRNT and aims to support the welfare of racehorses in their life after racing. TRNT Off The Track is strongly committed to the welfare of all Thoroughbreds, both during and after racing. Leading welfare practices have been developed to support the care of our racehorses and aid with their transition into retirement. Additionally, we intend to build on strong partnerships within the racing industry and the community.
During 2022, a total figure of 113 horses within the Northern Territory were retired from racing. TRNT Off The Track recognizes that 55% of horses retired in the NT were re-homed interstate. Trainers in the NT understand that re-homing horses interstate can provide better support for their welfare and well-being. This is largely due to weather conditions, as some horses within the NT can develop anhidrosis, which impacts their ability to sweat. Horses that develop this condition can be re-homed down south to a cool climate and completely recover from anhidrosis. Additionally, more re-trainers are available down south, which can ensure the horse is provided education before re-homing.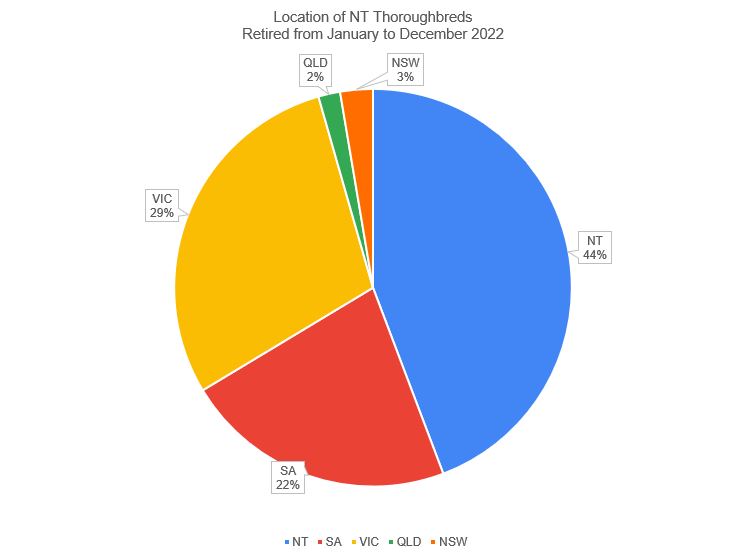 Key focus areas for equine welfare have been identified to enhance the success of retirement outcomes. These areas of focus have been developed in accordance with the Aftercare Toolkit. The toolkit, established by the International Forum for the Aftercare of Racehorses (IFAR), identifies factors crucial to whole life support.
Uphold traceability as the highest priority, due to its underpinning nature for welfare practices. Ensure, trainers are held accountable for lodging retirements.
Support the horse's longevity in their retirement home by providing re-training support.
Establish stronger engagement with the wider community to raise the profile of the breed.
Obtain program support from governing bodies.
Build regular communication between owners to ensure TRNT OTT's interest in the horse's whole life.
Tailor practices to target vulnerable Thoroughbreds and implement protective measures.
Please view the TRNT Off The Track Vision 2022-2024 for more information regarding our welfare comittements.