Off The Track Stories
Champion Thoroughbred for an Aspiring Rider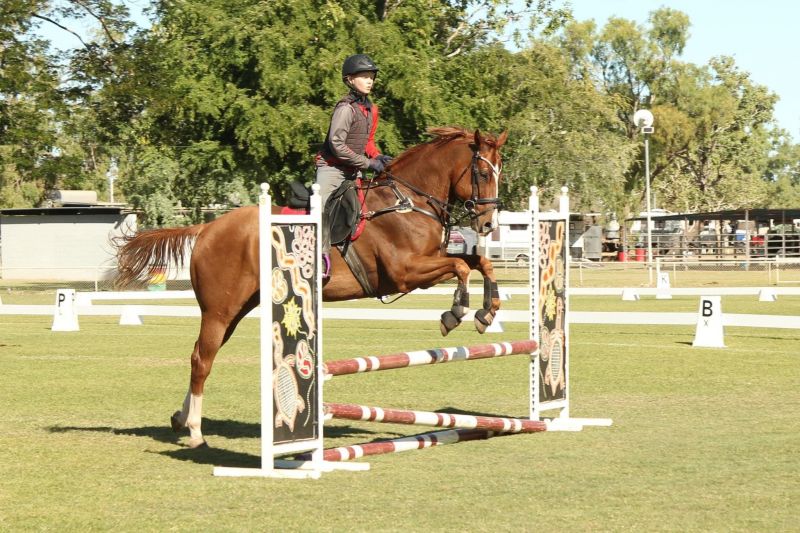 Ex-racehorse Life's A Gamble will soon be representing the Northern Territory in the Marcus Oldham Australian Interschool Championships.
Life's A Gamble is owned by 13-year-old, Layne Martin an aspiring Olympic rider, who could not be more excited to compete within the Championships. Together the pair will travel to Sydney, where the event will be hosted at the Sydney International Equestrian Centre.
The Australian Interschool Championship are recognised as the largest grass roots equestrian program within Australia and will host over 2,000 competitors throughout the country.
After a strict selection process, Layne Martin was chosen alongside a small group of riders to represent the Northern Territory.
Life's A Gamble boosts a strong breeding lineage, sired by Stratum a previous Golden Slipper winner. Life's A Gamble was bred by the prestigious Corumbene Stud before training with Peter Moody as a Colt. During 2017, Life's A Gamble was transferred into the care of trainer Kerry Petrick, before being retired. Whilst Life's A Gamble didn't break any records on the race track, his athletic abilities demonstrated in the jumping arena are hard to beat.
Together, Layne Martin and Life's A Gamble have shown hard work and dedication to achieve some of the best competition results. This hasn't been without the support of Nicole Mutimer from the Northern Territory Institute of Equestrian Sport. Over the last five years, Nicole Mutimer has provided Layne Martin with consistent coaching and training to ensure he is performing to his full potential.
Together Layne and Life's A Gamble train over jumps, practice their dressage and occasionally relax with a nice trial riding. This is often followed by a full weekend attending competitions with the Darwin Show Jumping Club.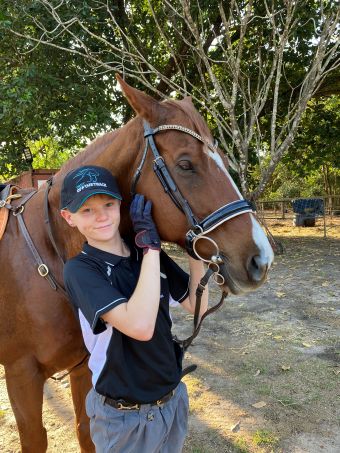 TRNT Off The Track is incredibly proud of Layne Martin's and his achievements alongside Life's A Gamble. As a result, TRNT Off The Track were eager to provide the pair with sponsorship during there time competing within Sydney.
With the assistance of Hygain, TRNT Off The Track were able to supply the pair with two months' worth of Hygain feed and supplements. It is hoped that this will keep Life's A Gamble well fueled and ready to compete in his best condition for Layne Martin.
Incredible work by Life's A Gamble and Layne Martin, the NT Racing Industry would like to wish you all the best during the Australian Interschool Championships.
Trained For A Lifetime Of Success
Gary Clarke's name is synonymous with thoroughbred racing in the Territory.
He holds a dominant record on NT tracks, having won every feature race within the NT, most recently the Alice Springs Cup with Count Of Essex. Clarke's record is unparalleled – he has been the leading Top End trainer for a record nine consecutive years.
While racegoers and industry participants alike have watched and applauded Clarke's successes and training ability on raceday, not many would be aware how his training has resulted in numerous horses leading successful competition careers upon retirement.
Most recently, two horses trained by Clarke, Black Haze and Tacitus, competed with distinction at the Fred's Pass Rural Show under the guidance of their new owner, Michael Duckenfield.
Duckenfield is one of Clarke's biggest fans, and says the leading trainer is highly proactive when it comes to retiring any of his horses. Aligned with this, a regular comment within the Off The Track community is that Clarke's ex-racehorses have a beautiful and calm temperament.
Duckenfield is somewhat of a collector of Clarke's horses, with his small team also including capable former gallopers Escondido and La Trioli.
Now in their new home with Duckenfield, Tacitus and Black Haze continue to win plenty of awards. In particular, Tacitus went above and beyond by competing in events held by the NT Show Horse Association and the Noonamah Horse and Pony Club.
Duckenfield may not have enough room for all the awards being gathered by his Off The Trackers, with Tacitus coming home with a plethora of awards, including the prestigious 'Supreme Saddle Horse of The Show Champion'.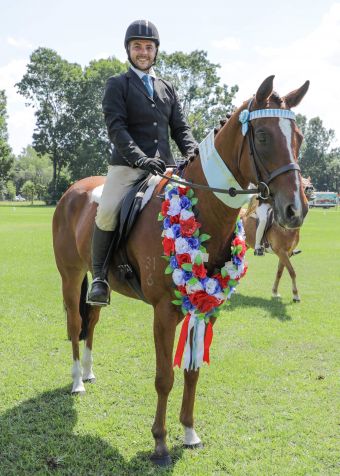 Duckenfield is no exception though, as countless horses retired from Clarke's stable have continued to lead impressive careers after racing, including Fort Knox, who recently competed in Off The Track events held at Werribee Park in Victoria, even going up against the former champion sprinter Chautauqua.
Similarly, two-time Palmerston Sprint winner Captain Punch found a retirement home with Olympic equestrian Megan Jones and her competition team.
Gary Clarke quite simply has the ability to train horses for a lifetime of success!
Family Thoroughbred On and Off The Track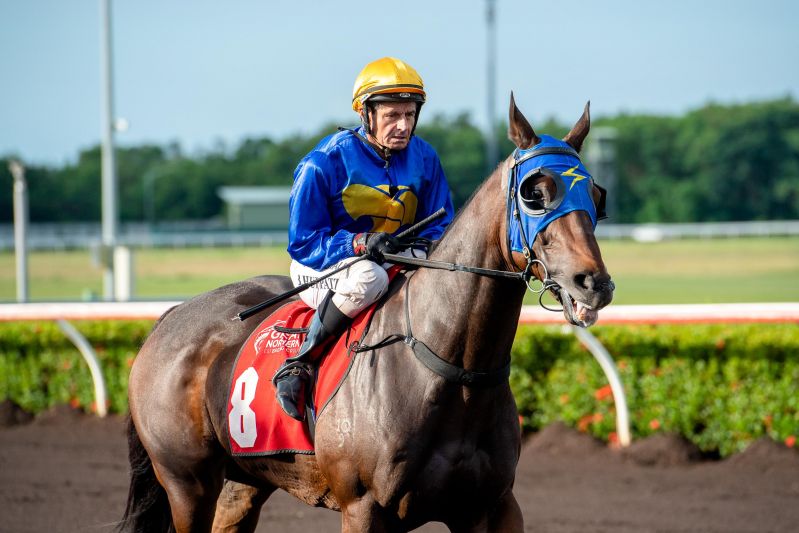 Lookatim Go (aka Cyril) has been accomplishing feats under the guidance of the Huppatz family both on and off the track.
The 12yo had an impressive racing career spanning 97 starts. He accrued total earnings of $178,630, the result of 12 wins, seven seconds and 11 third placings.
Lookatim Go was relocated from Western Australia to the Territory, joining the stable of Darwin trainer Chris Pollard in 2018. During his time in the NT, Lookatim Go combined with jockey Barry Huppatz on some 11 occasions on raceday at Fannie Bay.
Clearly, Lookatim Go left quite an impression on Barry, as following his retirement the senior jockey made the decision to relocate the horse to the family property.
Lookatim Go is now under the care of Barry's daughter Brooke. The two have been competing together at Fred's Pass with the Darwin Show Jumping Club, and since his retirement in March 2022, Lookatim Go has proved a reliable steed for Brooke.
The perfect horse for a teenage rider, Lookatim Go and Brooke will all going well grow to become a competitive force in the showjumping ring. Despite a new introduction to jumping, Lookatim Go has been an absolute star, safely jumping a height of 70cm.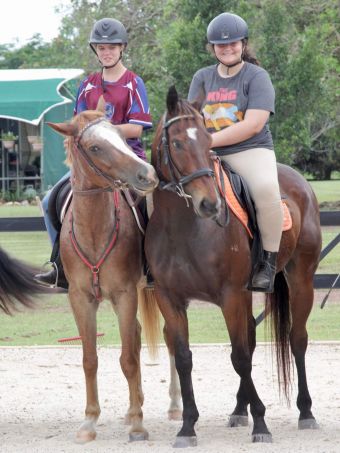 TRNT Off The Track is delighted to witness Lookatim Go's success post racing. He is a perfect representation of the amazing temperament of thoroughbreds and their incredible athletic abilities.
TRNT will follow the veteran's adventures with the Huppatz family and look forward to what they can achieve together. The Huppatz family has shown great dedication to the horse's career both on and off the track, and it is heart-warming to see that Lookatim Go has found a forever home with this family.
TRNT Off The Track Clinic

TRNT Off The Track provided another successful clinic with WA Acknowledged Re-Trainer Richard Rice. Thoroughbred Racing NT, would like to say a massive thank you to Richard for his assistance in educating Off The Track members.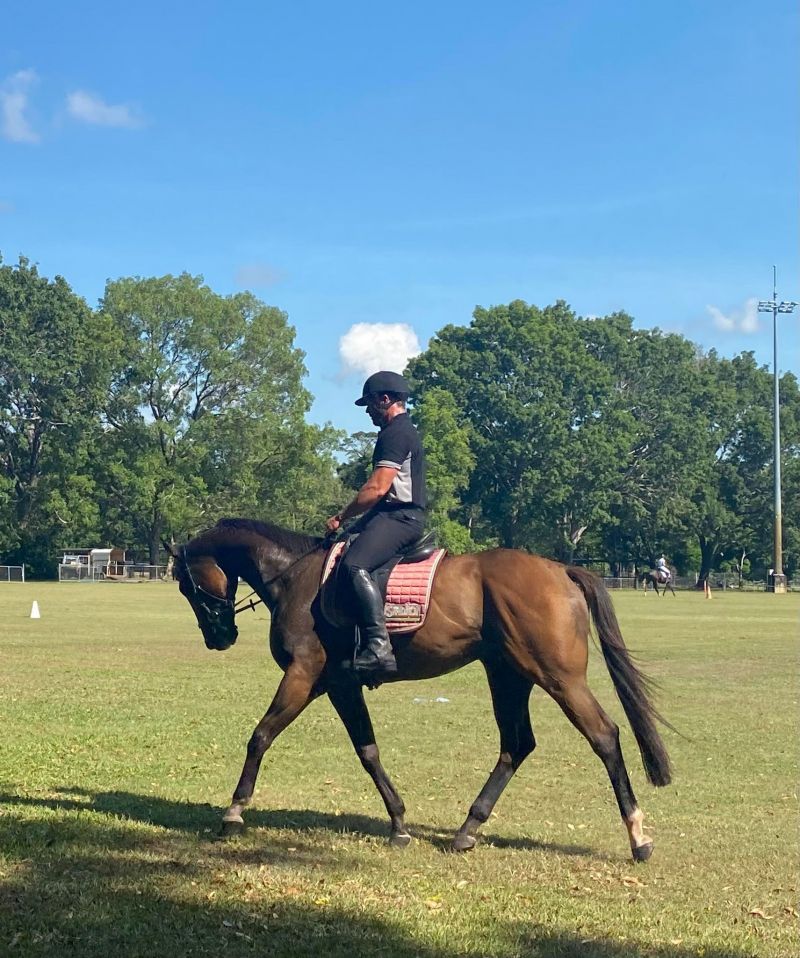 Richard provided one on one training to members and his advice given was invaluable. Richard has competed in the show ring at top levels throughout Australia. He has also judged at State, National and International levels. Richard has a specific love for Thoroughbreds and has worked with them throughout his career.
During the clinic, each horse owner expressed a particular concern about their riding to Richard,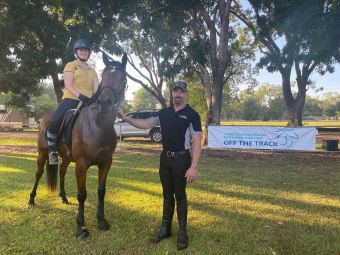 which was worked on during their allocated hour lesson. Richard guided the riders on how to develop a better connection. This was achieved through feedback on their riding equipment, position, and much more. Horse owners across different disciplines all worked with Richard and their experience was transformative. Within the hour alone, all owners developed a greater connection with their riding. The greatly benefited all horses and owners.
In particular, one owner who participated in the clinic had only recently retired their Thoroughbred. This was only the fifth time their ex-racehorse had been ridden, after re-homing the horse three months ago. Both the owner and the horse rode beautifully and progressed in leaps and bounds under the guidance of Richard. The highlight was when Richard provided further assistance, by riding the horse himself. Richard showed the owner just how much potential their horse had through his incredible ability to ride.
There is no doubt that Richard provided beneficial education to Thoroughbred owners, during his time in the NT. Off The Track greatly looks forward to hosting Richard Rice again.
Fort Knox

6yo gelding
by Choisir out of Gold Find
Trained by Gary Clarke
Retired 24/02/2022
Last start in Darwin 15/02/2022
40 starts 9-2-4 total $146,770 in prize money
Fort Knox, previously trained by Gary & Sharlene Clarke has settled in well at his new home with Racing Victoria Acknowledged Retrainer, Elle McKenzie. They wasted no time stepping out in the spotlight. He wasn't even off the truck when Elle optimistically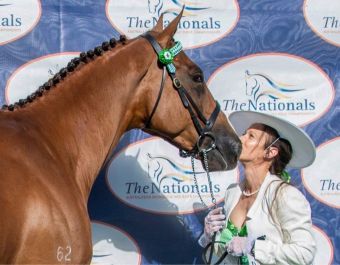 entered him in the Off The Track Fashions On The Field at the Show Horse Nationals held at Werribee Park on Friday the 11th March.
After assessing his temperament on arrival she was confident he would be fine, but knew it was asking a lot of a horse to step off the race track and into the ring at The Nationals in such a short time. Fort Knox handled it all like a true professional and behaved impeccably, an absolute gentleman. The class itself featured a list of exceptionally high class competitors reading like a who's who of the show ring and the race track, including the grey flash himself, Chautaqua and Casey Bruce. Steph Barrington and Royal Highness took out the honours with a very well deserved win.To be in the company of such elite professionals was an honour in itself for Elle, who hasn't seen a show ring for about 20 years… or so! She does accept she might have to dust off the show gear now that she has Fort Knox in her stable.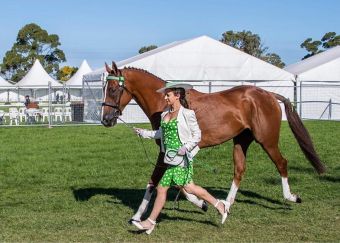 Elle was first introduced to Fort Knox when partner Mitchell Hulm was his farrier at Leon Corstens stable in Geelong. He would send her pictures of him as a 2yo knowing she was a sucker for white socks. Gary & Sharlene's son Guy was working with him at the time and when he was listed for sale Gary & Sharlene asked for Mitchell's opinion of the horse and he was purchased, with Mitch also buying a share in Elle's name. They cheered him home for 8 wins and when the decision was made to retire him there was no question about where he would go. He arrived happy and in fantastic condition which is a testament to how well the Clarke stable care for their horses.
Elle and Mitch have a strong association with the family and have an interest in another horse, Raazou, also previously trained by Corstens who has experienced success for the stable in his first NT start and currently also have The Auditor in their stable for retraining. Although Elle is an Off The Track retainer she does concede that Fort Knox won't be going anywhere. He has definitely found his forever home where he will be very much loved for the rest of his days.
Ransom Money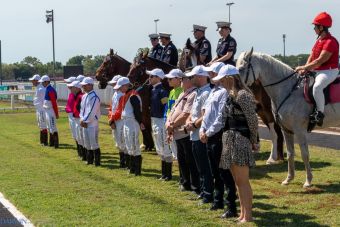 8 yo gelding
by Tickets out of Play Money
Retired 4th May 2021
Last raced 13th February 2021
39 starts 4 wins 4 seconds 5 thirds $137,195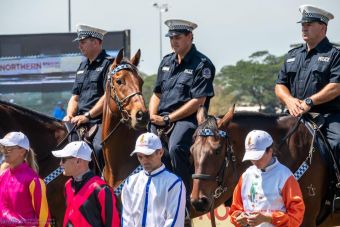 Such a special day at the Darwin Turf Club yesterday celebrating and recognising our jockeys who ride our amazing thoroughbreds.
We would like to thank the NT mounted police for also celebrating this day with us with one very special member of their team Ransom Money
After only 4 months off the track Ransom Money made his first public appearance in the ceremony line up. He certainly earned his stripes and is now becoming a valuable member on the force.
Where Are You

11yo gelding
by Freeze out of Deed Poll
Trained by Kerry Petrick
Retired 2/01/2014
Last start in Darwin 30/10/2013
10 starts 0-2-0 total $5200 in prize money
How versatile are our thoroughbreds.
On the weekend Where are You (Toby) stepped up once again to fill in the role as Clerk of the Course he certainly enjoyed is days outing and we will no doubt see him again over the carnival.
Toby is a valued member of the Davidge family and has become very versatile horse in any discipline from show jumping to polo x and what ever else is happening you will find Toby there.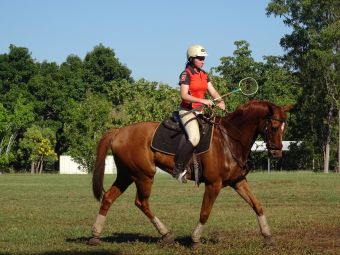 Thanks to the Davidge family for letting me share what a great example of what thoroughbreds are capable of and that is certainly everything in Toby's case.
Captain Punch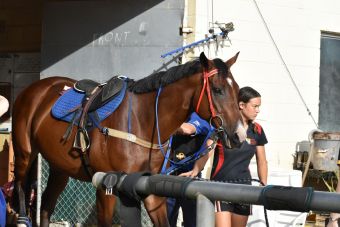 9yo Gelding
by Captain Gerard out of Punchline
Bred by Vintage Bloodstock
36 Starts 13 wins 5 seconds 2 thirds
Owned by Mrs S Clarke, A Fleming, R Edmonds, J Illidge, D Gebert, D Marcroft, A Nakov, C Carter, M Dillon, C Lambley, D Jenkin, A Perry
Prize money $408,500
First Start 29th June 2014
First win Gawler 10th December 2014
First start in the Northern Territory, Alice Springs 30th April 2016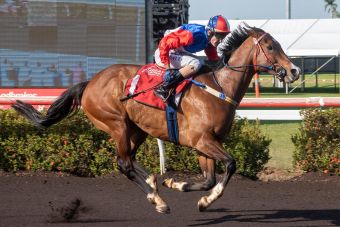 Total prize money in Northern Territory $341,520 from 17 starts with 10 wins 4 seconds &
Had 2 starts in Victoria with a second at Cranbourne 14th October 2018
Ran in 5 Palmerston Sprints for 2 wins a second and 2 unplaced
Farewell to Captain Punch from the Northern Territory. Punchy as he is affectionately known around the stables has been with Clarke Racing since 2016 and when he wasn't racing here in the NT he would have his holidays at Millpark Lodge in South Australia. Once the decision was made to retire him it was never going to be easy to find the right home for him. Clarke Racing and the owners waited patiently and wanted to ensure that life didn't end after his last race as he had so much more to give. He has been a superstar here in the NT on the track and we are sure he will be a superstar Off The Track in SA.
Thanks to TRSA & John Cornell who contacted TRNT Off The Track looking for a suitable horse as an ambassador horse to join the team with Olympic rider Megan Jones. Immediately Captain Punch came to mind as he is an absolute gentleman and his willing attitude made him a perfect candidate. Captain Punch will be supported by the TRSA equine welfare team while he now embarks on his retraining into his new career.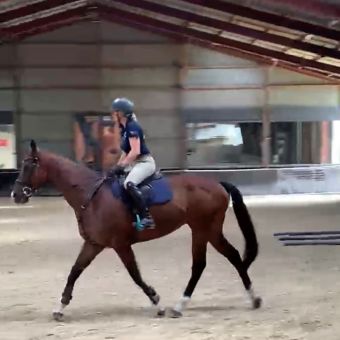 Brad Cooper from Darwin Horse Transport will be in charge of delivering Punchy to his new home in South Australia and we thankyou for your expert care in transporting all of our horses in and out of the Northern Territory.
Go Punchy show them what you have got we will be following your progress.
Its all about the horse.
Lunar Joy
We are happy to announce that Lunar Joy is now on the road back to a full recovery. Lunar was found out in the bush near Robbins Falls Adelaide River by Aimee Burgdorf in December and she was concerned for her welfare and made the decision to bring her back home. Not an easy thing to do as they had to organise a float and eventually made it back home after midnight.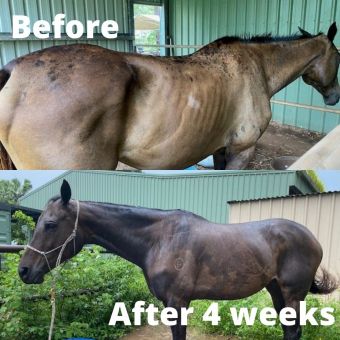 TRNT Off The Track was made aware of this and we immediately did an inspection on Lunar Joy to confirm her identification and unfortunately due to her very poor condition we arranged for emergency vet care by Dr Suzannah Smith and treatment was given. Hygain feed was provided to give her a balanced feed and we set her up on a diet to bring her back to condition. After not having this type of feed for awhile it was introduced slowly.
It was ascertained that Lunar had actually spent over 14 months out in the bush and travelled approximately 30km's she's certainly showed her toughness and resilience in the harsh conditions.
We are so thankful to Aimee for caring enough to bring this horse back home and after seeing the 2 together not sure if Aimee found Lunar or Lunar found Aimee, it has been such an amazing story.
Lunar still has a way to go before she will be back to her former self and TRNT Off The Track will be there for Lunar and Aimee.
Aimee is now the official owner Lunar and she will now go on and try her hand at polo x and we will continue to follow her progress on Lunar.
Thankyou Aimee, you are a star.
Its All about the horse
UPDATE
Remember our little Territory Tuff Thoroughbred Lunar Joy.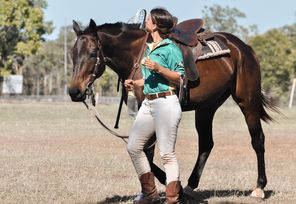 Look at her now!
We cant thank Amie enough for firstly finding Lunar in the bush and secondly helping her back to her former self with the help from Hygain feeds.
Lunar has now moved on to start her career in polo x with Leonie and they are quickly forming a great team together and last weekend Lunar stepped up to umpire a game wont be long and she will be out there on the field showing how tough she really is.