Paddock buddies Hawkes Bay & Palmyra Boy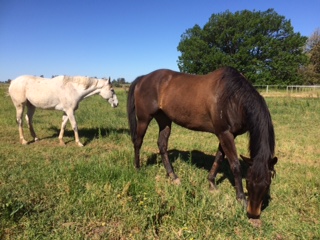 Life after racing dosn't get any better than this. These two fellows enjoying life now as best mates in the paddock together.
Hawks Bay & Palymyra Boy travelled together to Darwin for quite a few years,
Hawks Bay from 2009 until 2012 and Palmyra Boy from 2008 until 2013.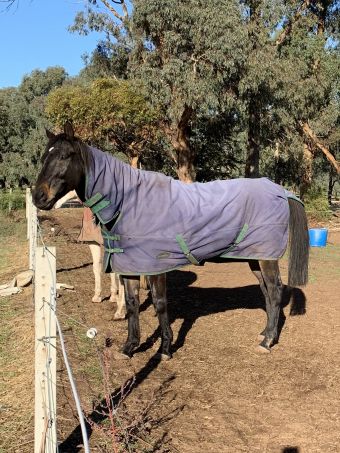 Hawks Bay
Homebred by Mike Deacon and Robyne Blee from La Belle Coquette, an unraced mare purchased by Mike for Robyne for $1,750. Mike and Robyne ran a part time small agistment property, with their own two mares, the resulting progeny, and a few spellers.
La Belle Coquette had eight foals, all raced, all won, including Rocky Le Beau (27 starts-6 wins), Mouse King (37 starts -2 wins),La Belle Amie (9 starts -1 win), Peace Prize (59 starts – 9 wins) Cape Danger (57 starts – 12 wins), Hawks Bay (61 starts – 14 wins),Brel (18 starts – 2wins) and Sparkie sold as yearling won 4 in Korea.
Service fees for the progeny were up to $8,000 (Hawks Bay) and total prizemoney in the vicinity of $1.25 million, much of which came from Hawks Bay and was shared amongst the multiple owners who bought into Hawks Bay early in his career.
Neil Dyer was responsible for the training of all the Australian raced horses, taking much care in placing them well in order to achieve much success. It was Neil's suggestion to take Hawks Bay to Darwin for the three year old races, Darwin Guineas and NT Derby, and having won those continued in that preparation to run second in the Darwin Cup as a four year old.
Hawks Bay has now made the 8,000 kilometre return journey to Darwin on six occasions, has won most of the major Darwin races, and seems to thrive in the NT conditions and relish the Fannie Bay course. In fact after his second Darwin Cup win, some enthusiasts even temporarily changed signposts from "Fannie Bay" to "Hawks Bay". All done in jest of course.
Hawks Bay has given his owners much pleasure, not only in celebrating his success together, but also in meeting new friends and travelling to different places in order to follow their "hero". Darwin has certainly been a huge part of that enjoyment.
It is due to Neil's care that Hawks Bay has been able to continue to race successfully, despite ongoing leg problems, until now as an eight year old. Neil along with Christina Jeffery, and Neil's staff, ensured that Hawks Bay has had all the extra care required, and along with all his charges, have had the best opportunity possible, and made his annual trip to the Darwin Carnival a successful venture.
HIGHLIGHTS
A career spanning 6 years, 4 states, 61 starts.
All of his 14 wins.
An unexpected second in the Group 2 Crystal Mile at Moonee Valley.
Country cups at Murray Bridge and Wangaratta.
His first Darwin campaign, winning the first two races of the Triple Crown, the Darwin Guineas and NT Derby, and then running second in the Darwin Cup, a race that had not been part of his campaign plan.
Winning his first Darwin Cup in 2011 by four lengths.
By far his biggest highlight was his win in the 2012 Darwin Cup, carrying 64.5 kilos to second place Bolton with 57. Hawks Bay led into the straight, was headed by Bolton, and showed enormous determination and courage to fight back and win in a photo by a nose.
Hawks Bay's popularity was countrywide, with many following his every race.
He is not only a racehorse, an iron horse, a warhorse, a wonderhorse, but also a pleasure horse for all the enjoyment he gives to so many people.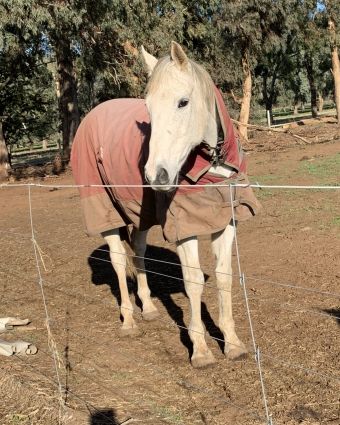 Palmyra Boy 23 starts in Darwin, (plus Alice Springs, Adelaide River, Tenant Creek). Darwin results 6 wins (including Metric Mile twice, Roant Cup), 4 seconds (Darwin Cup once - to Hawks Bay), 3 thirds (including Metric Mile once) and two fourths (both in Darwin Cup).
Overall record 80 starts, 13 wins,7 seconds, 9 thirds.