On The Track & Off The Track
Red Hot Hussler - On the Track and Off the Track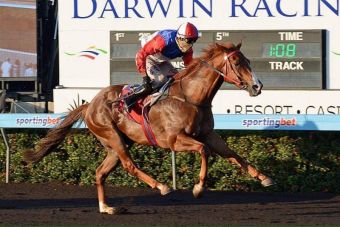 In 2013, Darwin trainer Gary Clarke attended the Magic Millions Tried Horse Sale in Queensland and was impressed with a little chestnut gelding by Hussonet. Even though he was on the small size, he was a standout so Gary purchased him and so began the story of Red Hot Hussler.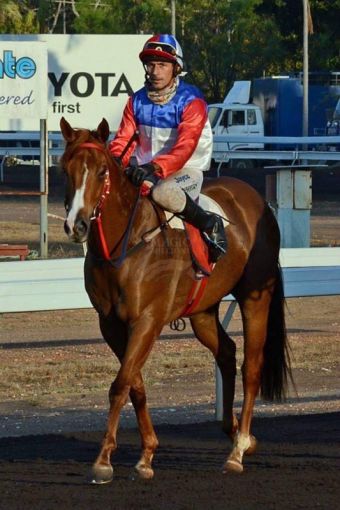 Red Hot Hussler had 19 starts in Queensland before heading to the NT and he had his first start in the Top End on the 8th June 2013. However, it wasn't until the Darwin Cup Carnival was in full swing on the 27th July of that year that he won, with Paul Shiers in the saddle. After running a few placings, he had his second win on 1st February 2014.
Astute mentor Clarke made the decision to retire Red Hot Hussler in May 2014 as he felt that he had reached his mark. Red Hot Hussler retired with 35 career starts for 5 wins, 5 seconds and 3 thirds, and total prizemoney of $65,595. Red Hot Hussler had a great nature on and off the track and Clarke knew he would be suitable for a new career – the next chapter of his life was about to get underway.
The Beasys, an avid show jumping family of the NT, were on the lookout for another horse for their son Finn, then 13 years old, to team up with. After three months off in the paddock, Red Hot Hussler (or now known as Captain Lightning Bolt or more affectionately around the stables as Lightning) started his career in the show jumping world. Under the expert guidance of local show jumping guru David Sheasby, Finn and Lightning grew in confidence as a team.
In 2016, the family had made plans to do a three-month stint in the southern states competing at the big shows. However, prior to the trip, Finn and Lightning had an exceptional year, taking out the Darwin Show Jumping Club 1m Open Finch Farm Clear round series, so the decision was made that Lightning would also make the trip south, and what a good decision that was!
Finn and Lightning subsequently took out the Australian Show Jump Championships 1m Grand Prix, and the pair was on the podium wherever they went.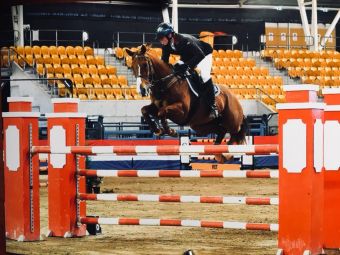 Throughout 2017, confidence and trust between the pair continued to grow and they were consistently jumping in the 1.20m classes around South East Queensland, with fields of 60-plus riders. Although the horses were now kept in South East Queensland, the family alternated between there and Darwin so that they could pursue show jumping, as Darwin only offered 1.2m classes a few times a year.
Moving into 2018, things were really going great for Finn and Lightning, with the pair now competing at 1.3m and again consistently in the top 10 in 50-plus rider fields. During 2018 they attended the Australian Show Jumping Competition, competing in the Australian Junior Title (17yr and under). These classes go up to 1.35m and Finn and Lightning finished a highly creditable 15th placing overall. They also competed in the Open Speed Class (1.30m) alongside many senior experienced riders like Vicki Roycroft, and placed 11th overall.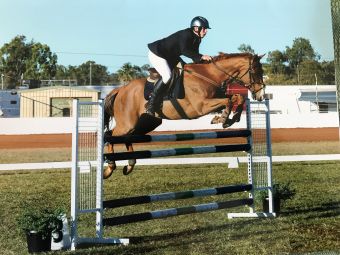 At present, Finn is completing Year 12 exams and unfortunately competing in the Australian Show Jump Championships is not an option. Finn and Lightning did compete in the Young Rider Series (16-21yrs) at Acquis Elysian Fields in Canungra (QLD) and they were both totally amazing - the pair made the final tackling 1.40m and with only a few rails down, ended up 16th overall.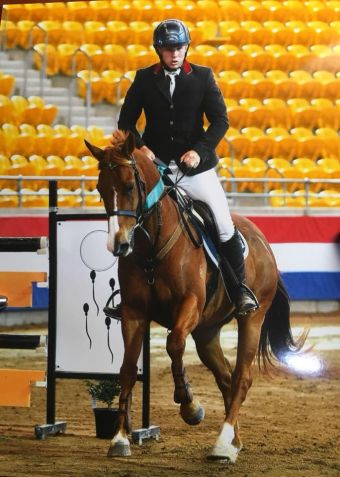 They then went on to compete at the Brisbane Royal Show and came away with a 3rd in the Junior Grand Prix. It was here that James Arkins saw Finn and Lightning and given that Finn had exams coming up, James offered to take Lightning to the Off The Track Jump Off Series in Vic.
Lightning has now moved to Sydney and James will compete with him in the Off The Track Jump Off Series final at Boneo Park. However, the story doesn't end there as Lightning will be moving onto a new home in South Australia with an 11-year-old girl, and it is doubtful whether Finn and Lightning will be seen in the ring together again.
We thank the Beasy family for this wonderful story of an Off The Track horse from the NT and we wish Lightning (aka Red Hot Hussler) and James Arkins all the best in the Off The Track Jump Off Series on Melbourne Cup Eve Monday, November 4th. The Northern Territory will be cheering for him as our unofficial representative.