From the Race Track to Show Jumping
From the Race Track to Show Jumping
The young daughter of Top End racehorse trainer, Phil Cole, has been proving herself as a promising young horse woman alongside her ex-racehorse Commissar.
There is no doubt the that the Cole Racing Stable is considered one of Darwin's biggest with currently 32 race horses in work. None the less, the Cole's team continuously demonstrate a high level of passion for their horses, and work hard to find each of them the perfect home post racing.
Yet every now and then, there comes a racehorse the Cole family simply cannot part with, and in this instance, it was Commissar, an 11-year-old bay gelding.
Commissar had led an impressive career with 36 starts, six wins, 12 placings and a total earning of $132,360.
Stable Foreman, Rhonda Cole, had adored Commissar since the day he arrived at the stable. Having strapped him each race day for three years, Rhonda and Phil Cole have been by Commissar's side every moment during his racing career in the Territory.
Following retirement in 2019, Commissar was inherited by young Chalie Cole, daughter of Phil and Rhonda Cole. Chalie has had plenty of involvement in racing industry, and a love for Thoroughbreds which matches her parents.
Chalie Cole is the youngest of their four children, unlike her other siblings, Chalie is the only one who has developed a keen interest in horses. Chalie certainly has an attachment to a number of their racehorses, which is evident in her following statement "my favourite part of working at my dad's stables is of course the horses…I'd love to keep a few of the horses he has so really nice ones, but mum says I can't keep them all".
Chalie Cole has been lucky to have the mentoring of her father, who is not only an experienced trainer and track work rider, but also an ex-jockey. Under Phil's guidance Chalie was first taught how to ride on one of their old racehorses 'Swick Sasso'.
In addition to her work as part of the Cole Racing team, Chalie regularly trains and competes for Show Jumping. Chalie has seen plenty of success jumping for pony 'Angel', however, has recently out-grown this ripper pony and made to decision "upgrade". Commissar is a new challenge for her and she couldn't be more excited.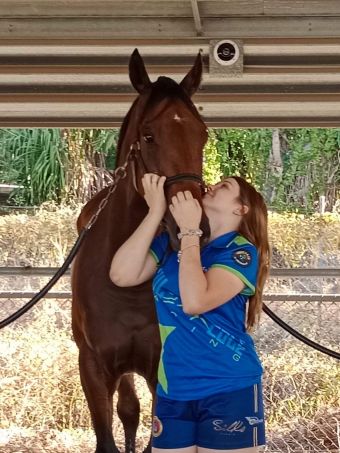 Chalie comments that "He (Commissar) took to retirement well as he's really quite lazy… The only time he wasn't lazy was when he jumped out the barriers in a race. He loved racing."
Post racing, Commissar received re-training from Jami Huish. Jami worked hard build on his foundational training and ease his transition into retirement. Under the guidance of Jami, Commissar found early success competing and placing within numerous Show events.
Chalie Cole has since taken over his retraining development, and has began preparing him towards Show Jumping. Presently, Commissar and Chalie are jumping up to an impressive height of 90 cm. Whilst Commissar shows plenty of willingness to Jumping, Chalie believes he needs a little more fine tuning.
Commissar will certainly be ready to compete soon. Chalie is already thinking ahead with plans to join the NT Show Jumping Team and eventually hopes represent the Northern Territory in the prestigious Interschool event.
It is inspiring to witness Chalie's continued dedication both on and off the track. TRNT Off The Track are excited to continue following her journey.
Massive congratulations should be said to all of Commissars connections. Additionally, the Cole Racing team should be commended for their hard work caring for Commissar and supporting Chalie.