From Racehorse to Show Horse
From Racehorse to Show Horse
Fort Knox, previously trained by Gary & Sharlene Clarke has settled in well at his new home with Racing Victoria Acknowledged Retrainer, Elle McKenzie.
They wasted no time stepping out in the spotlight. He wasn't even off the truck when Elle optimistically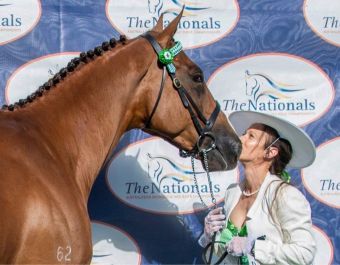 entered him in the Off The Track Fashions On The Field at the Show Horse Nationals held at Werribee Park on Friday the 11th March.
After assessing his temperament on arrival she was confident he would be fine, but knew it was asking a lot of a horse to step off the race track and into the ring at The Nationals in such a short time. Fort Knox handled it all like a true professional and behaved impeccably, an absolute gentleman. The class itself featured a list of exceptionally high class competitors reading like a who's who of the show ring and the race track, including the grey flash himself, Chautaqua and Casey Bruce. Steph Barrington and Royal Highness took out the honours with a very well deserved win.To be in the company of such elite professionals was an honour in itself for Elle, who hasn't seen a show ring for about 20 years… or so! She does accept she might have to dust off the show gear now that she has Fort Knox in her stable.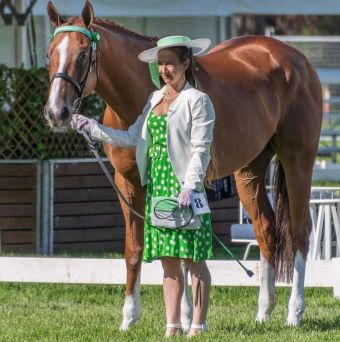 Elle was first introduced to Fort Knox when partner Mitchell Hulm was his farrier at Leon Corstens stable in Geelong. He would send her pictures of him as a 2yo knowing she was a sucker for white socks. Gary & Sharlene's son Guy was working with him at the time and when he was listed for sale Gary & Sharlene asked for Mitchell's opinion of the horse and he was purchased, with Mitch also buying a share in Elle's name. They cheered him home for 8 wins and when the decision was made to retire him there was no question about where he would go. He arrived happy and in fantastic condition which is a testament to how well the Clarke stable care for their horses.
Elle and Mitch have a strong association with the family and have an interest in another horse, Raazou, also previously trained by Corstens who has experienced success for the stable in his first NT start and currently also have The Auditor in their stable for retraining. Although Elle is an Off The Track retainer she does concede that Fort Knox won't be going anywhere. He has definitely found his forever home where he will be very much loved for the rest of his days.