Champion Thoroughbred for an Aspiring Rider
Champion Thoroughbred for an Aspiring Rider
Ex-racehorse Life's A Gamble will soon be representing the Northern Territory in the Marcus Oldham Australian Interschool Championships.
Life's A Gamble is owned by 13-year-old, Layne Martin an aspiring Olympic rider, who could not be more excited to compete within the Championships. Together the pair will travel to Sydney, where the event will be hosted at the Sydney International Equestrian Centre.
The Australian Interschool Championship are recognised as the largest grass roots equestrian program within Australia and will host over 2,000 competitors throughout the country.
After a strict selection process, Layne Martin was chosen alongside a small group of riders to represent the Northern Territory.
Life's A Gamble boosts a strong breeding lineage, sired by Stratum a previous Golden Slipper winner. Life's A Gamble was bred by the prestigious Corumbene Stud before training with Peter Moody as a Colt. During 2017, Life's A Gamble was transferred into the care of trainer Kerry Petrick, before being retired. Whilst Life's A Gamble didn't break any records on the race track, his athletic abilities demonstrated in the jumping arena are hard to beat.
Together, Layne Martin and Life's A Gamble have shown hard work and dedication to achieve some of the best competition results. This hasn't been without the support of Nicole Mutimer from the Northern Territory Institute of Equestrian Sport. Over the last five years, Nicole Mutimer has provided Layne Martin with consistent coaching and training to ensure he is performing to his full potential.
Together Layne and Life's A Gamble train over jumps, practice their dressage and occasionally relax with a nice trial riding. This is often followed by a full weekend attending competitions with the Darwin Show Jumping Club.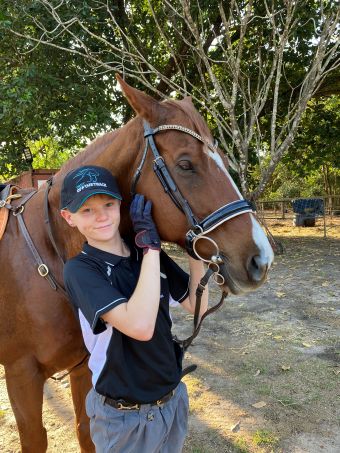 TRNT Off The Track is incredibly proud of Layne Martin's and his achievements alongside Life's A Gamble. As a result, TRNT Off The Track were eager to provide the pair with sponsorship during there time competing within Sydney.
With the assistance of Hygain, TRNT Off The Track were able to supply the pair with two months' worth of Hygain feed and supplements. It is hoped that this will keep Life's A Gamble well fueled and ready to compete in his best condition for Layne Martin.
Incredible work by Life's A Gamble and Layne Martin, the NT Racing Industry would like to wish you all the best during the Australian Interschool Championships.