2023 Marcus Oldham Australian Interschool Championships
2023 Marcus Oldham Australian Interschool Championships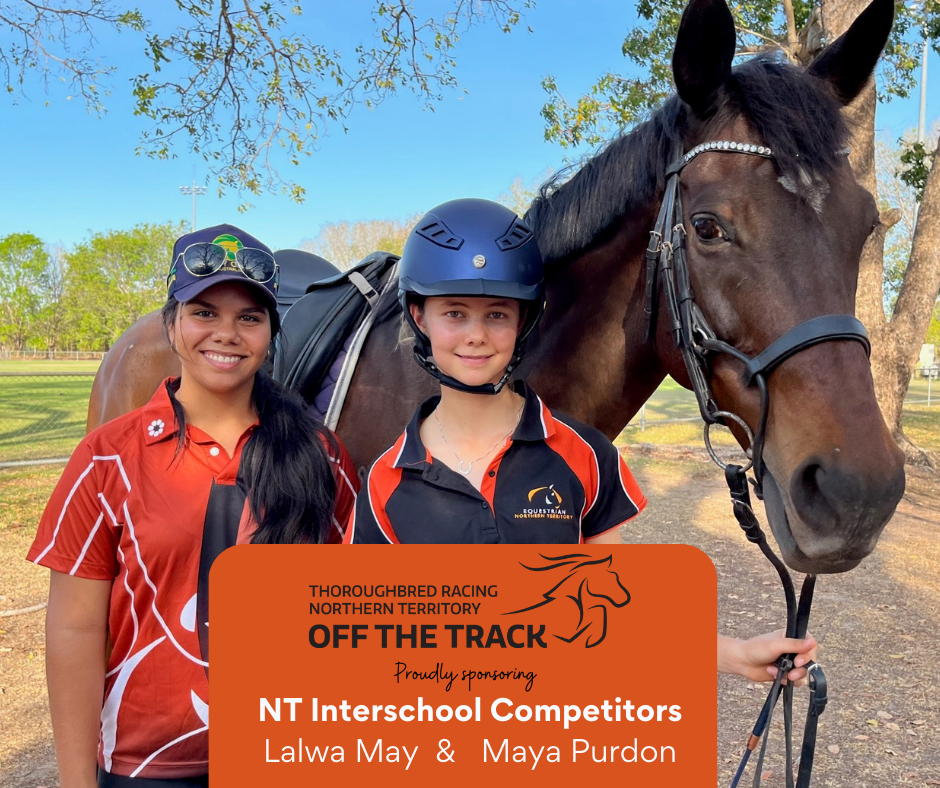 Exciting News: Meet two talented NT Interschool Competitors, Lalwa May and Maya Purdon, who have received sponsorship from TRNT Off The Track!
We are thrilled to announce that these two incredible young riders will be heading to Victoria to represent the Northern Territory in the upcoming Interschool Equestrian competition. But that's not all - they'll be competing alongside Thoroughbreds, showcasing the true versatility of our beloved equine partners!
The 2023 Australian Interschool Championships are set to be hosted at Werribee Park National Equestrian Centre in Victoria, Saturday September 30 to Tuesday October 03. This wonderful event attracts more than 2,00 school-based competitors, family, friends and supports from around the country.
Equestrian Northern Territory selected a team of six riders to represent the Northern Territory at the Interschool Championships. Both Lalwa May and Maya Purdon have worked incredibly hard to qualify for selection on this team!
TRNT Off The Track is incredibly proud to support Lalwa May and Maya Purdon on their journey by providing them with a $1500 sponsorship each. This sponsorship will not only help assist them with the cost of attending the Interschool Championship, but also highlight the remarkable potential of off-the-track horses in various equestrian disciplines.
Lalwa May compete during the Interschool Championships with OTTB 'Mr O'postrophe'. Once a $480k Magic Millions yearling, 18 year-old Mr O'postrophe recently competed in the Melbourne International Three-Day Event with his owner and previous trackwork rider- Rochelle Adams. Alongside Mr O'postrophe, Lalwa May will represent the Northern Territory as team captain.
Lalwa May is an incredibly talent rider. In July 2023, Lalwa May was selected as part of the Pony Club Australia Show Jumping team. This opportunity allowed Lalwa May to travel to France, competing in the World Clubs Tournament. Recently, Lalwa May was also awarded with the Indigenous Junior Sports Woman of the Year.
Maya Purdon, an equally impressive young rider will represent the Northern Territory alongside ex-racehorse 'Night Breeze'. Night Breeze is a 14 year-old gelding trained by SA's leading trained Ryan Balfour. Night Breeze had 76 starts (5-8-16) and total prizemoney earnings of $107,495.
Normally, Maya Purdon competes in Darwin with her OTTB 'High Church'. Both Maya and High Church have achieved some incredible results this season in both Dressage and Show Jumping. Recently, Maya Purdon competed in the 2023 TRNT Off The Track sponsored series with the Darwin Dressage Club. This series was hotly contested with 12 combinations competing across four levels. Maya Purdon and High Church were awarded as leading competitors, achieving third place within Preliminary Dressage.
Maya Purdon is a promising young rider, supporting High Church to achieve a successful post racing career. High Church was trained in Victoria by Darren Weir, leading an outstanding race career, having accrued half a million in prizemoney. High Church was a Group 2 racehorse and a number of major races including the 2016 Warrnambool Cup and 2017 Werribee Cup.
TRNT Off The Track are incredibly proud to sponsor Lalwa May and Maya Purdon! We are excited to follow their journey to the Interschool Championships in October.
Lalwa and Maya, your commitment to representing the versatility of ex-racehorses in the Championships is truly remarkable. You've not only shown your passion for equestrian sports but also highlighted the incredible potential of these magnificent animals.
Let's all rally behind these young riders and show our support as they embark on this incredible adventure. Please join us in wishing Lalwa May and Maya Purdon the best of luck in their upcoming competition!