Recognising Outstanding Aftercare
Recognising Outstanding Aftercare
Karen Ruzsicska was recently awarded the TRNT Aftercare Award for her dedication to the care of Thoroughbred horses in life after racing.
Being born in Darwin, Karen Ruzsicska has been an active member within the local equestrian scene for as long as she can remember. Karen has been a committee member with the Darwin Show Jumping Club for over 25 years, and in 2023 was president of both the Darwin Show Jumping Club and Darwin Dressage Club. Through this time, Karen has helped support the equestrian competitors, whilst also competing and caring for her own horses.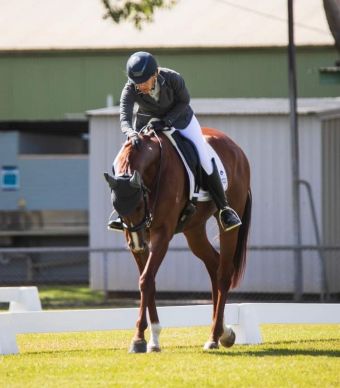 If Karen wasn't already busy enough, she made the decision to rehome retired racehorse 'Oakfield Sunrise' in 2019. Affectionately known as Oaky, the mare initially lacked confidence and was easily overwhelmed when away from home. The past three years has seen Karen responsible for retraining Oaky and working through different challenges. Through her horsemanship skills and empathetic decision making, Karen has shaped Okay from a mare with a tendency to spook, into a picture of happiness. Currently, the pair has been pursuing regular training within dressage and continue to compete at Elementary level with the aim of progressing to Medium.
As president of two equestrian clubs during 2022, Karen has worked with TRNT Off The Track to introduce opportunities, encouraging members to compete with their Thoroughbreds. Such opportunities have allowed TRNT Off The Track to provide club sponsorship and additional prizes.
Karen's commitment to caring for her own Thoroughbred, along with her support to those around her, saw her nominated for the TRNT Off The Track Aftercare Award late last year. Comments from nominees praised for her work retraining Oaky, along with her support in mentoring fellow competitors by regularly sharing her advice and experience.
TRNT Off The Track were incredibly proud to recognise Karen's commitment and dedication to the care of Thoroughbred horses in life after racing. Subsequently, Karen was presented with the TRNT Aftercare Award at the Darwin Turf Club Top End Racing Award night.
In addition to her award, TRNT Off The Track will sponsor Karen during 2023, at the value of $1,500 to support her participation in horsemanship clinics and training alongside Oaky. Karen commented "I am really proud of what I have achieved so far with Oaky, and my goals are to continue our dressage training and to reach Medium level. Our training will continue in 2023 with my regular local dressage coach Vanessa Lines and also with visiting dressage coach Daniella Dierks. The support provided by TRNT will absolutely assist us to reach this goal."
TRNT Off The Track would like to say a massive thank you to everyone that nominated. In particular to our numerous nominees, we are proud to be supported by such an amazing community who strongly advocate for our Thoroughbreds.