From Racehorse Ownership to an Off The Track Fan
From Racehorse Ownership to an Off The Track Fan
The following of a Thoroughbred's career doesn't stop at the race track.
Rochelle Adams is an owner of multiple racehorses, and has a love for Thoroughbred's which has seen her involved in every aspect of their careers.
Whilst this level of care and interest is commonly seen amongst our industry participants, Rochelle has been working above and beyond to assist with rehoming her Thoroughbreds.
After witnessing her first racehorse 'Karmonaaron' win three races in a row Rochelle was hooked with racing!
With her strong background in the racing industry and current role a blood stock agent, Rochelle naturally made the decision to establish Adams Thoroughbred Investments. Being born in Darwin, Rochelle has a strong interest in Territory Racing. So, as Adams Thoroughbred Investments has now grown to owning roughly 20 horses, the majority can be found racing here in the Top End.
Whilst Rochelle's enthusiasm for racing is hard to beat, she emphasizes that the feeling of finding her Thoroughbred's the perfect home off the track is even better feeling than winning a race.
Rochelle has helped to rehome more horses than she could even count. As a managing owner, Rochelle often assumes responsibility for finding the perfect home for her racehorses. Rochelle is incredibly grateful that her owners within, Adams Thoroughbred Investments, always wholeheartedly support her in this endeavor.
The majority of horses owned by Adams Thoroughbred Investments are rehomed in Victoria to RV Recognised Retrainers. Brad from Darwin Horse Floats, is always there to ensure the Thoroughbreds arrive safely at their post-racing home. Not only this, but the Thoroughbred's owners, alongside Rochelle, understand that transport costs to the retirement home are all a part of racing.
Rochelle has developed a strong relationship with recognised retrainers including; Shory Park Horses, Abey Performance Horses, CS Performance Horses and Rafiki Equestrian. Her relationship with these retrainers often means that her racehorses have a home waiting even 12 months before retirement.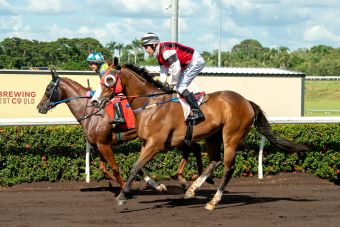 Her dedication to rehoming has even had a flow-on effect with other trainers approaching Rochelle for assistance when rehoming.
With Rochelle following the post-racing career of so many Thoroughbreds, you might wonder who her favorite 'rehoming story' belongs to?
Rochelle will quickly tell you that Rockatomic has a special place in her heart. This speedy gelding had 10 placings from 18 starts, before he retired in 2021. After such an impressive career Rochelle was keen to ensure he had the perfect retirement home. With the assistance of Abey Performance Horses, there is no doubt that this was achieved. Rockatomic was rehomed to two gutsy young riders, who haven't let his large height deter them from riding. Rockatomic has completely stolen the heart of these girls!
More recently, Rochelle has been excitedly following the post-racing career of Eastwood and Extrapolate. Both horses have shown plenty of potential, with Eastwood rehomed to CS Performance to begin his Show Career. Whilst, Extrapolate has began retraining with Abey Performance Horses with the hopes of him competing in the Melbourne International Three Day Event.
Rochelle's commitment to Thoroughbred's doesn't just stop here. To top things off, Rochelle is an avid eventing competitor and owns ex-racehorses 'Mr O'Postrophe' and 'Karmonaaron'. As mentioned earlier in this story, Karmonaaron was Rochelle's first racehorse. Since his retirement in 2020, Rochelle has been retraining the young Karmonaaron, who will soon be making a debut in 1 star eventing.