Family Thoroughbred On and Off The Track
Family Thoroughbred On and Off The Track
Lookatim Go (aka Cyril) has been accomplishing feats under the guidance of the Huppatz family both on and off the track.
The 12yo had an impressive racing career spanning 97 starts. He accrued total earnings of $178,630, the result of 12 wins, seven seconds and 11 third placings.
Lookatim Go was relocated from Western Australia to the Territory, joining the stable of Darwin trainer Chris Pollard in 2018. During his time in the NT, Lookatim Go combined with jockey Barry Huppatz on some 11 occasions on raceday at Fannie Bay.
Clearly, Lookatim Go left quite an impression on Barry, as following his retirement the senior jockey made the decision to relocate the horse to the family property.
Lookatim Go is now under the care of Barry's daughter Brooke. The two have been competing together at Fred's Pass with the Darwin Show Jumping Club, and since his retirement in March 2022, Lookatim Go has proved a reliable steed for Brooke.
The perfect horse for a teenage rider, Lookatim Go and Brooke will all going well grow to become a competitive force in the showjumping ring. Despite a new introduction to jumping, Lookatim Go has been an absolute star, safely jumping a height of 70cm.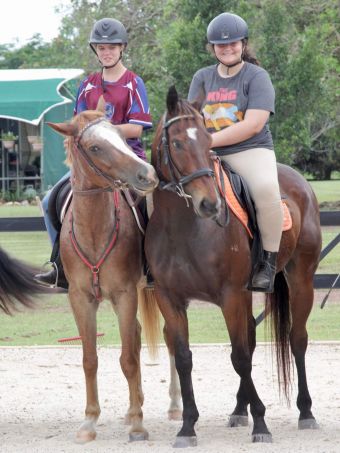 TRNT Off The Track is delighted to witness Lookatim Go's success post racing. He is a perfect representation of the amazing temperament of thoroughbreds and their incredible athletic abilities.
TRNT will follow the veteran's adventures with the Huppatz family and look forward to what they can achieve together. The Huppatz family has shown great dedication to the horse's career both on and off the track, and it is heart-warming to see that Lookatim Go has found a forever home with this family.