Trained For A Lifetime Of Success
Trained For A Lifetime Of Success

Gary Clarke's name is synonymous with thoroughbred racing in the Territory.
He holds a dominant record on NT tracks, having won every feature race within the NT, most recently the Alice Springs Cup with Count Of Essex. Clarke's record is unparalleled – he has been the leading Top End trainer for a record nine consecutive years.
While racegoers and industry participants alike have watched and applauded Clarke's successes and training ability on raceday, not many would be aware how his training has resulted in numerous horses leading successful competition careers upon retirement.
Most recently, two horses trained by Clarke, Black Haze and Tacitus, competed with distinction at the Fred's Pass Rural Show under the guidance of their new owner, Michael Duckenfield.
Duckenfield is one of Clarke's biggest fans, and says the leading trainer is highly proactive when it comes to retiring any of his horses. Aligned with this, a regular comment within the Off The Track community is that Clarke's ex-racehorses have a beautiful and calm temperament.
Duckenfield is somewhat of a collector of Clarke's horses, with his small team also including capable former gallopers Escondido and La Trioli.
Now in their new home with Duckenfield, Tacitus and Black Haze continue to win plenty of awards. In particular, Tacitus went above and beyond by competing in events held by the NT Show Horse Association and the Noonamah Horse and Pony Club.
Duckenfield may not have enough room for all the awards being gathered by his Off The Trackers, with Tacitus coming home with a plethora of awards, including the prestigious 'Supreme Saddle Horse of The Show Champion'.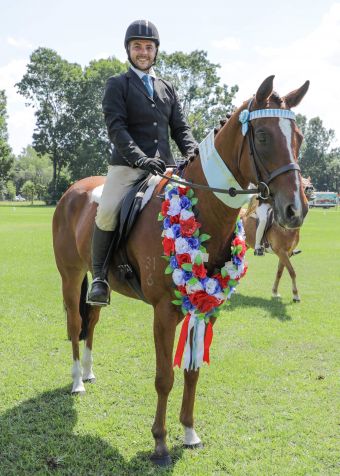 Duckenfield is no exception though, as countless horses retired from Clarke's stable have continued to lead impressive careers after racing, including Fort Knox, who recently competed in Off The Track events held at Werribee Park in Victoria, even going up against the former champion sprinter Chautauqua.
Similarly, two-time Palmerston Sprint winner Captain Punch found a retirement home with Olympic equestrian Megan Jones and her competition team.
Gary Clarke quite simply has the ability to train horses for a lifetime of success!